About No Man's Sky
No Man's Sky is a space exploration sandbox survival game developed by Hello Games for PlayStation 4 and PC. The original release date of June 21, 2016, has been pushed back to August 9, 2016 for the PS4 and August 12, 2016 for the PC.
No Man's Sky features a procedurally generated open world, which means the game is generated algorithmically rather than manually. The game allows the player to discover and explore space, with star systems containing over 18 quintillion planets. Although all players will explore the same universe, the experience of playing will be unlike other MMOs, as players are unlikely to meet each other given the size of the game environment. [edit]
Discussions
Featured Videos
Official Website
No Man's Sky website
Official Twitter
Official Facebook
Unofficial Discord Server
Discord
Unofficial Subreddit
Reddit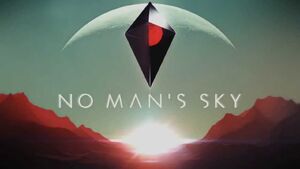 Server Status
No Man's Sky server status
Ad blocker interference detected!
Wikia is a free-to-use site that makes money from advertising. We have a modified experience for viewers using ad blockers

Wikia is not accessible if you've made further modifications. Remove the custom ad blocker rule(s) and the page will load as expected.