The subject of this article is from a pre-release seed. The information on this page cannot be found in the released game.

The information from this article is kept for historical purposes and should not be further categorized.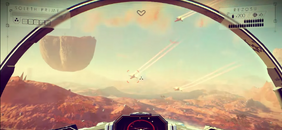 Variation Goran - O:
A fleet of Fighters which have been taken down on the surface of Soleth Prime (a planet discovered by BBILZ) by a member of Hello Games while engaged in a interplanetary dogfight.
Ad blocker interference detected!
Wikia is a free-to-use site that makes money from advertising. We have a modified experience for viewers using ad blockers

Wikia is not accessible if you've made further modifications. Remove the custom ad blocker rule(s) and the page will load as expected.