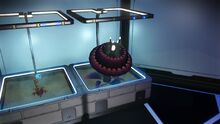 Farming is a method of growing plants to harvest their resources to either sell or build technologies that would be otherwise hard to come by. There are Currently 11 Plants that can be farmed with the use of a Hydroponic Tray. All recipes are obtained through the Farmers tasks.
Farming Tips
Plants will only grow when time is spent in game, exiting the game will cause all plant growth to cease until the game is resumed. It is recommended to place plants then continue on with any other missions while checking back periodically.
Hydroponic Trays will still use up their supply of fuel even if the game is not running, as the plants do not grow in this time it is best to refuel the trays at the start of each mission not the end. A good way to keep enough fuel on hand is to have a Standing Planter for every 2 hydroponic Trays so you can always have the isotope elements needed to keep them running.
Full List of Farmable Plants
It is important to note that the base trade values of these farmable products do not come anywhere near to their manufactured counterparts. For a list of the trade items that can be crafted from these plants please look a the Curiosities page.
Ad blocker interference detected!
Wikia is a free-to-use site that makes money from advertising. We have a modified experience for viewers using ad blockers

Wikia is not accessible if you've made further modifications. Remove the custom ad blocker rule(s) and the page will load as expected.