Ellis is a arid desert planet located in the
Ellis system
in the
Nexovittac Expanse
region 177944.1 lightyears from the galactic center of the
Euclid Galaxy
.
Locations of the planet include:
Arid Badlands
Great Ellisian Desert
Ellisian Borderlands
Fauna                                                                                    
Sand Deer
Ellisian Eagle
Ellisian Dog
Rock Roamer
Greb
Flora
Bush Cactus
Highland Cactus
Desert Gourd
Melon Cactus
Ellisian Cactus
Lamp Flower
Ellisian Tree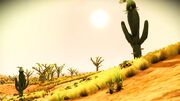 Ad blocker interference detected!
Wikia is a free-to-use site that makes money from advertising. We have a modified experience for viewers using ad blockers

Wikia is not accessible if you've made further modifications. Remove the custom ad blocker rule(s) and the page will load as expected.